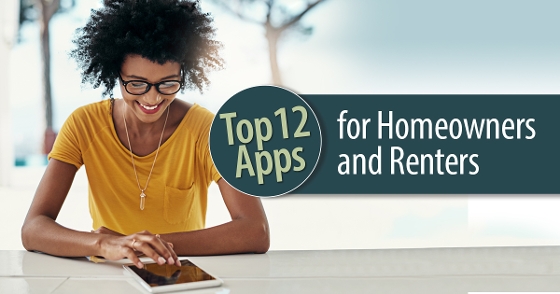 More than 77 percent of people own a smartphone.1 The average person checks their smartphone 46 times a day, with people under the age of 24 checking it an average of 74 times a day.1 We check it while we're waiting in line and during our leisure time, whether we're scrolling through social media, reading emails or getting up-to-date on the latest news.
Smartphones are not only a useful tool for communication. With the following apps, you can get organized (whether you plan to buy or sell), save money, learn about the homes in your neighborhood and get inspired for your next renovation project. If you're like 81 percent of people, you have your smartphone with you during most of your waking hours; let it help you stay organized and make your life easier.3
Apps For Homeowners: Get Renovation Inspiration
These apps not only offer ideas for your next remodel or home décor project, some of them even give you a preview of what your home may look like once it's finished.
1.) Houzz
The Houzz app is the number one app for home design and it's no wonder; the app gives you access to all the inspiration, blogs and design ideas from the Houzz site on your phone or tablet. The app features View in My Room 3D, which allows you to view products in your home before you buy. Just take a photo of the space and a 3D version of the product will appear. Browse products, save photos of designs you'd like to view later and connect with local professionals in your area. Whether you're gathering ideas for your next renovation and décor project or you're just browsing, the Houzz app will satisfy all your design needs.
2.) iHandy Carpenter
Make sure the photos, shelves, mirrors and other artwork you hang are even and aligned with this helpful app. It's an all-in-one tool kit that features a plumb bob, surface level, bubble level bar, ruler and protractor. No need to purchase these tools separately; just hold your smartphone up to the wall and the app will take care of the rest.
3.) Handyman Calculator
When you need to do more than measure the size of a room, the Handyman Calculator will also calculate the cost of materials, amount of time spent on a project and more. Track your time, create a to-do list and save all of your calculations to the app's notepad. You'll store all of the information you need in one place—your smartphone.
(Android)
Bonus App for Homeowners:
BrightNest
From keeping things clean to making them colorful, Brightnest, developed by Angie's List, is loaded with suggestions on how to make your home a better place to live. With categories of customized tips (money-saving, cleaning, eco-friendly, healthy, cooking, and creative) there are plenty of great ways to pull inspiration from the app. BrightNest will help you tackle important home tasks with easy-to-follow instructions, a personal schedule and helpful reminders. (iOS, Android, Web)
Apps For Sellers: List & Sell Your Home Quickly
Are you a homeowner who is thinking of selling? If you're preparing to sell, you know there are a lot of tasks to complete before putting your home on the market. These apps help you manage your to-dos so you can list and sell your home more efficiently with fewer distractions.
4.) Docusign
Use the DocuSign app to complete approvals and agreements in hours—not days—from anywhere and on any device. Quickly and securely access and sign any documents. The benefit to using the app (over your desktop computer) is you will receive push notifications when a document is waiting for your signature and you can view and organize all your docs on-the-go. Using the easily downloadable app, receive and sign documents for free. You can receive and sign documents for free, but will need a paid account to send documents; pricing starts at $10 a month. (iOS, Android, Windows, Web).
5.) Wunderlist
Designed for use on the Web and mobile devices, Wunderlist is a well-designed to-do list and task management program that makes it easy to create a list and add tasks, due dates and reminders. Organize your ideas or focus into separate lists or create tasks within one list. You can also email them with whomever you collaborate, such as a spouse or your real estate agent. (Android, iOS, Windows Phone, Web)
6.) Real Estate Dictionary
Not sure what all those industry specific terms mean? Search thousands of words and phrases from real estate, mortgage, and financial dictionaries for clear, in-depth definitions. This is a handy app for anyone who's buying or selling and wants to learn more about the process. (iOS, Android)
Bonus App for Sellers:
Jiffy
If you need a handyman or plumber to fix a few things up before selling, or need help installing a dishwasher or washing machine, Jiffy can connect you with qualified tradespeople if you live in the Toronto or Ottawa areas. All tradespeople and services featured on the site have been rated 4 or more stars. Additionally, they have proof of insurance or a license where required. Click on service and the app shows both the standard and after-hours rates. You can also request an appointment or have someone come right away.
Apps For Renters: Get Ready to Buy
Not ready to buy a home just yet? These apps will help you get into the perfect rental while you save money, build a budget and get on track for homeownership.
7.) Mint
Do you know where your money goes each month? Manage your bills, budget and credit score all in one place. Mint is a free app that helps you view your complete financial picture and track your spending. We recommend this app to anyone, but it's especially useful for renters who need to crack down on their spending in order to save for a down payment. Use Mint to look for areas you can cut spending in order to save a little extra each month. (iOS, Android)
8.) Mylo
Mylo makes it easy to turn spare change into investments. Simply link your cards and the app will round up your purchase and put the loose change into your Mylo account, where it'll be automatically invested. The app uses the same security measures that all major Canadian banks also use, so you can rest easy that your money is safe. Although it's currently only available for iOS, the app is in development for Android devices. (iOS)
9.) Credit Karma Canada
If you're preparing to buy, boosting your credit score is likely a goal you've set. Credit Karma is a free app that allows you to safely monitor your score and receive updates on ways you can improve it over time. The company recently launched a beta version of its successful program in Canada. It provides financial calculators and educational articles to help you better understand what credit is all about. Check as often as you want, and it doesn't hurt your score. (Web)
Bonus Apps & Tools for Renters:
Wally
Wally is a personal finance app that helps you compare your income to expenses, so you can understand where your money goes each month, and set and achieve goals. Wally lets you keep track of the details as you spend money: where, when, what, why, & how much. We love how simple it is to set a personalized savings target and scan receipts. (iOS, Android)
Carrot Rewards
Get rewarded and save money for living a healthy lifestyle with Carrot Rewards, an app created by the federal government to promote wellness. Collect SCENE points, Aeroplan Miles, Petro-Points, or More Rewards points by completing surveys, quizzes and learning about how to reduce your risk of chronic disease and increase healthy living. Currently only available for residents of ON, BC, NL, the app creators announced they're working on making it available to all Canadians soon.­ (iOS, Android)
Apps for Buyers: Find the Perfect Home
When you're ready to buy, there are several apps that can help you stay on top of the process. Whether you're browsing online at different neighborhoods and homes and can't seem to remember where all your saved data and information went or you want to save an important task or a neighborhood or listing clipped from the Web, these apps help you keep it all straight.
10.) AroundMe
Discover what's located around the homes you're interested in. The AroundMe app allows you to search for restaurants, gas stations, movie theaters, banks and more near your location. Open the app when you're viewing a home and see what's nearby.
(iOS, Android, Windows Phone)
11.) Evernote (Free for the Basic version, $34.99 per year for Plus and $69.99 per year for Premium)
Collect ideas, notes and images in one place to access later on your computer, tablet or smartphone. Categorize your notes so you can find them quickly and easily and share them with others in a group notebook. Add the Web Clipper feature to your browser and clip and save articles, blogs and images from the Web. Whether you're collecting research on a business idea or you're looking for inspiration for a home renovation, Evernote can help you keep it all together. (Web, iOS, Android)
12.) Canadian Mortgage App
Although there are many free mortgage calculators available for download, this app from CMHC will help you assess the monthly payment, closing costs, the maximum loan and more of the homes you're interested in. These numbers should be used as a guide, work with your agent and mortgage professional to learn exactly what type of loan you'll qualify for. (iOS, Android, BlackBerry)
Bonus App for Buyers:
Google Maps
Google Maps is a must-have for anyone who's house hunting. When you're ready to visit a property or check out a neighborhood, you can use Google Maps to give you turn by turn directions to the house. You can use their satellite view to get a good idea how far important things like schools, parks, shopping, bus stops, and restaurants are to a home you are interested in and check out the other houses on the street. (Web, Android, iOS)
Ready to move beyond the app?
If you're thinking of buying or selling your home, or know someone who is, keep us in mind because we're happy to help!
Source:
Pew Research Center, January 12, 2017 http://www.pewresearch.org/fact-tank/2017/01/12/evolution-of-technology/
Deloitte, 2016 global mobile consumer survey: US edition https://www2.deloitte.com/us/en/pages/technology-media-and-telecommunications/articles/global-mobile-consumer-survey-us-edition.html
Gallup, July 9, 2015 http://www.gallup.com/poll/184046/smartphone-owners-check-phone-least-hourly.aspx